Hos much is Emily Procter worth?
The actor has amassed a net worth of $14 million.
Biography – A Short Wiki
Emily was born October 8, 1968 in Raleigh, North Carolina. She grew up as an adopted kid. Her professional career started with smaller roles in nineties. Her famous character is Calleigh Duquesne from CSI: Miami. Procter also played Ainsley Hayes in The West Wing and Amanda Callaway in White Collar. She's married with music producer Paul Bryan and has 1 child.
Career
Following her graduation from East Carolina, Procter moved to Los Angeles. Her father agreed to fund her desire to attended acting school for a couple of years while in LA, as she had decided to pursue acting. Before she even completed the acting program, she already landed a number roles in films like "Jerry Maguire" and "Breast Men." In 1995, she appeared in the NBC sitcom, "Friends."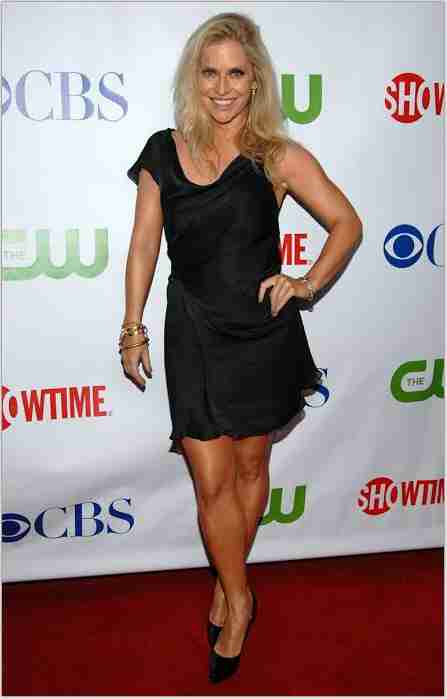 Personal Life
Since 2008, Procter has been in a relationship with musician Paul Bryan. In 2010, they had a daughter together named Philippa, whom they call Pippa. Procter was pregnant with Pippa during the ninth season of "CSI: Miami." Because they did not write a pregnancy into her character, the writers instead adapted Procter's on-screen appearances to take place primarily behind a desk.
Quotes
"Your child's not looking at you and going, 'Mmm, I love a clavicle. Let me nestle into that.'"

— Emily Procter
"It's so nice after 10 years as a blond actress in Hollywood to have people let you do smart things."

— Emily Procter
"My house is very serious. It's a lot of antiques, and the way I decided to liven it up is, I paired it very vibrant colors and – bugs… I think that they're pretty. And I think that they're fascinating and they're natural."

— Emily Procter
"It's a very weird thing. When you see your house naked, you feel very protective of it and of the people who lived here before."

— Emily Procter
"I've found that I've settled into myself a little bit more in last year and started wearing things that I feel comfortable with and my own style and… I decided to just embrace the person that I am and the look I like, and what I think is pretty."

— Emily Procter